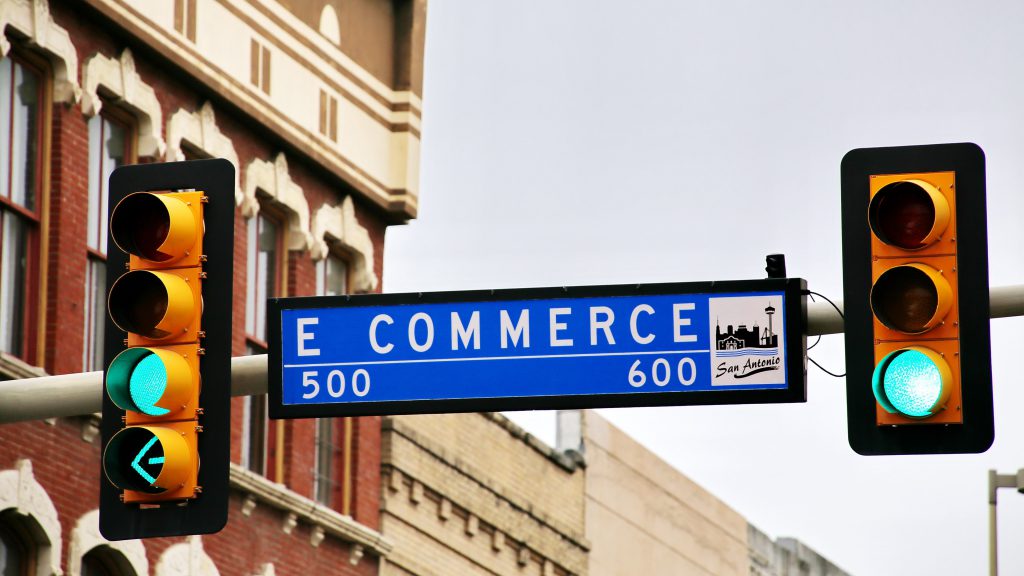 Ecommerce—long recognized as a force for change within the world of consumer purchasing—is starting to spread its wings. After fundamentally changing how people research and consume, quadrupling in sales in 8 years (from $1T in 2012 to $4.1T in 2020), the accessibility, convenience, and personalization that Business-to-Consumer (B2C) ecommerce offers have changed buying behavior across the range. That behavior is now bleeding into the B2B buying process also. Is your business keeping up?
Here are some quick stats:
According to a 2019 Amazon report, Business-to-Business (B2B) ecommerce within the U.S. alone is forecasted to reach $1.8 trillion by 2023—a market twice as big as the  Business-to-Consumer (B2C)  market. The 2019 Business-to-Business (B2B) global ecommerce market was valued at $12.2 trillion in 2019—nearly 6 times that of the Business-to-Consumer (B2C) market. In research conducted by Accenture, 68% of Business-to-Business (B2B) consumers had bought goods/services online, up from 57% the year before. This represents an enormous opportunity for businesses that invest in reliable ecommerce channels, processes, and methods to serve their Business-to-Business (B2B) customers.
In this post, we will look at some of the benefits the ecommerce experience can provide to B2B buyers, the expansion of the ecommerce channel for Business-to-Business (B2B), and make a case for introducing ecommerce as a purchasing channel for your customers.
The Growth of Ecommerce
Think back to the last time you had to set foot in a physical shop to buy something. Almost anything can be purchased online these days—from furniture to groceries to clothes, and consumers have responded by flocking to digital channels. While only making up 7.4% of retail sales in 2015, ecommerce has more than doubled its market share of retail sales to 16.1% in early 2020—with penetration spiking to 35% through the end of Q1 2020-10 years of projected growth taking place over just three months. Ecommerce sales have increased from $3.53T in 2019 to $4.2T in 2020, with projections to hit $6.1T by 2023. In Q2 2020, it is estimated that one in every five dollars spent was spent online.
What's driving the shift? For beginner, with the rise of the internet and mobile connectivity, consumers now have access to storefronts 24/7, able to shop at their own convenience. According to a study from KPMG, the main reasons consumers shop online are:
Shop 24/7: After hours? No problem. Because of our ubiquitous device usage, purchases can now be made on your schedule, without having to worry about whether a storefront will be open when you arrive. Is your Business-to-Business (B2B), buying process contingent on making people visit a physical storefront or speak to someone during limited operating hours? You're leaving revenue on the table.
Easy to compare prices: 'Shopping around' used to mean hiking across the mall or driving across town to compare prices on items before buying—and by the time you found out that the item was cheaper at the first store, you were too tired to return and ended up overpaying for it anyways. Thanks to the internet, price comparisons can now happen almost instantaneously, empowering consumers to get the best price.
Save time: Do you like having to go to physical locations or speak to aggressive salespeople in order to make a purchase? Odds are, your buyers do not either. In an era where buyers are busier than ever, purchases can now take place more quickly, in a way that complements your consumers' packed schedules.
With these obvious benefits to end consumers, it is no surprise that ecommerce has made the impact it has. But while it is driven consumers to behave differently by shopping online, it is also permanently altered their expectations when it involves to their purchasing experience—whether B2C or B2B.
If you'd like to know more about how Multiable ERP system can help your business grow, contact for a free consultation with one of our experts at Multiable.